A Mobile Sales App for iPhone, iPad and Android
Field sales operations are improved through enhanced marketing and sales materials.
Enhancements include interactive product navigators, and richer versions of videos, photos, PDF documents, presentations, finance and ROI calculators.
Mobile sales enablement software allows you to streamline and organize digital or sales media assets in the cloud with great efficiency. Your sales reps can access these assets quickly for increased productivity and results.
We offer a highly efficient and easy mobile sales application that keeps you in control of all content. With fine-grained permissions, you always remain in full control of who can access what content.
A Modern Mobile Sales App Saves Time and Money
Sales apps and software continue to evolve based upon the needs of the market.
Today, due to market fragmentation, any mobile app should be cross-platform. Both Android and iOS platforms continue to have strength and durability in the marketplace. If you want to empower and engage your sales team, you need to provide tools they can use regardless of device.
Your sales representatives can use our app to share assets with prospective customers and track through our Salesforce integration.
Sales content must be available anywhere and easy to access in order to support the sales process. Content must be available on every sales rep's mobile device. Whether it is sales playbooks, product catalogs, or guided training, making it on demand is important.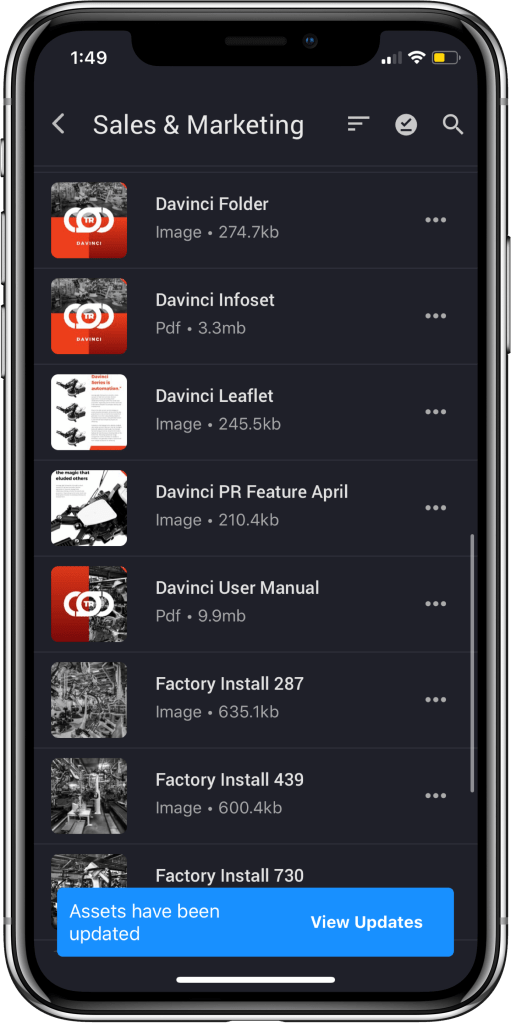 An example of folders within the BAM! Mobile Sales Tool (seen here is the app for iPhone)
Make Every Sales Rep Effective
in Real Time
Such a platform operates with a cloud-based storage system for maximum availability and access. Offline mode becomes a critical requirement for teams that operate from remote locations.
Once users have downloaded the app, they can access saved content even without access to a wifi network. The functionality operates quickly and seamlessly to deliver a powerful and useful experience even without an Internet connection.
One way to increase mindshare among dealers and distributors is through a branded mobile app. It is possible to customize the app in the Google Play and App Store with a branded icon and custom colors. A custom app will offer a strong brand touchpoint across your extended sales network.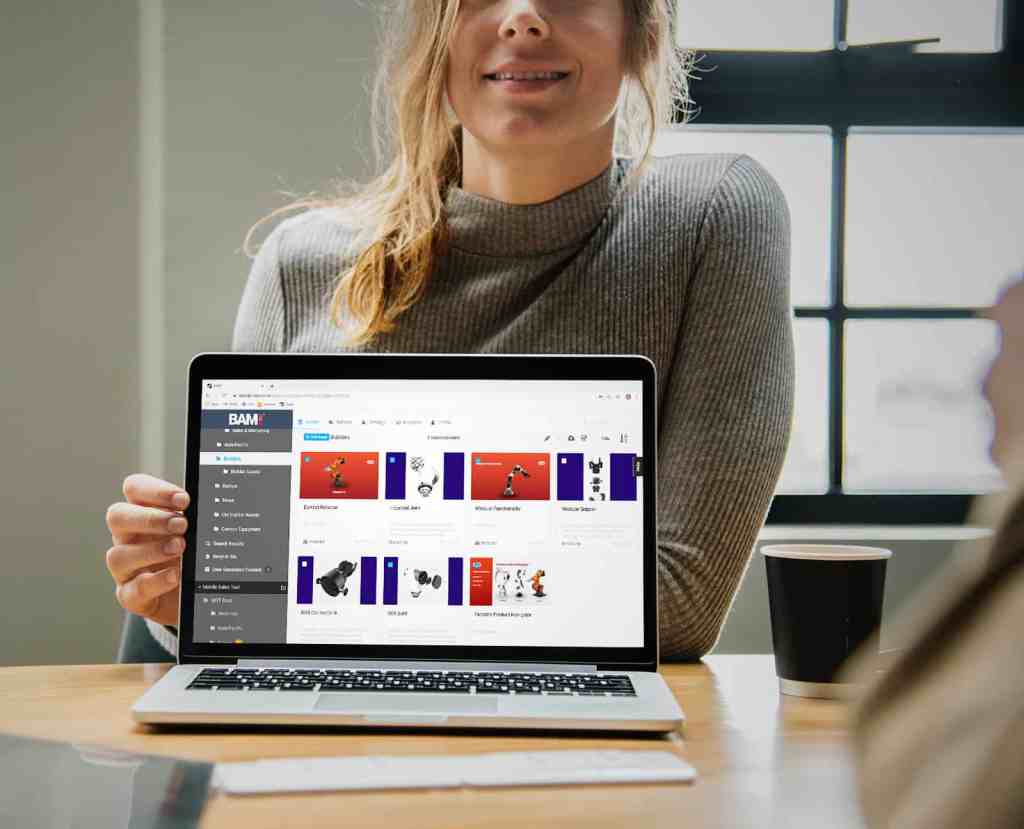 An example of the web-based DAM used by BAM! admins to centrally organize, manage, and publish current versions of sales and marketing content.
Mobile Sales App Benefits
There are a number of benefits to using this sort of modern mobile apps for sales reps, including:
Brand consistency across touch points
Improved conversations with customers
Reduced time for the marketing team to manage, organize, and publish digital assets
A mobile sales app can help your sales team get organized, enabling them to concentrate more on selling rather than preparation. Administrative personnel can use the mobile sales rep app to access sales tools such as PowerPoint slides, templates, and lead tracking. These reps can share the content with customers and prospects with a customer profile within the mobile sales tool.
Sales reps gain much more selling time with mobile apps, increasing the productivity of your channel sales force. This is true even if territory management is a challenge.
To learn more about a modern mobile selling platform can help your business, please reach out or schedule a demo.