Mobile Sales Apps
BAM! helps OEM's create the most informed and sales-ready distributors in the industry.
Armed with a web-based DAM and a cross-platform mobile app distributors can access from anywhere (even offline), content admins can:
Keep sales reps up to date on product information and specs 24/7

Create self-sufficient reps who can look up information in seconds and no longer have to call asking for basic information

Make sure that distributors become confident, high-performing sellers instead of order-takers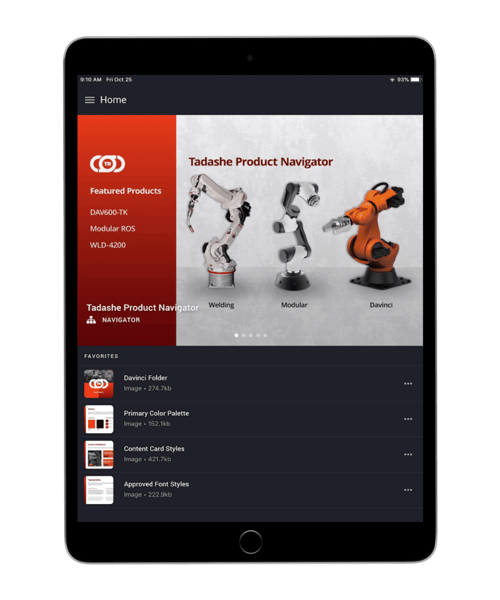 Trusted by leading manufacturers: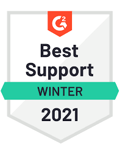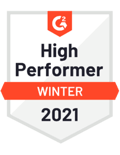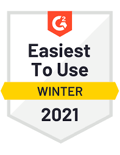 Mobile Sales Apps 101: everything you need to know
It was once true that a professional salesperson just needed tools like a briefcase, a pen, a suit and a phone. Possibly a winning smile and a hearty handshake, too. A good Rolodex didn't hurt.
A lot has changed - mostly for the better.
Advances in sales software can save time and make life much easier for sales reps.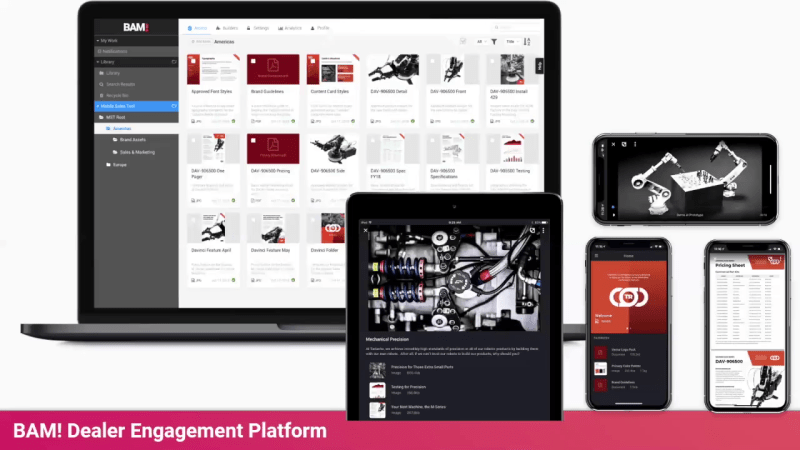 Above: The BAM! mobile sales platform is an example of a modern sales application for distributed sales networks that works across devices
These days, sales apps and software-based sales tools continue to evolve based upon the needs of the market, providing real-time access to customer information, product information, and tools that enrich and deepen the buying experience.
They can even assist with sales project management.
Apps make it possible to streamline and organize digital or sales media assets in the cloud with increased efficiency.
Sales reps can train on new products faster, share information more easily with customers, and be more prepared than ever before to provide ROI and other proof points in real time.
What is a mobile sales app?
There are a few kinds of sales apps you could call "mobile."
First and most importantly this class of apps is intended to help anyone in the profession of sales, including:
Retail sales
Door to door sales
Field sales
Remote sales
Service (for upselling or cross-selling)
There are also many steps to selling and providing customer service, so just a few of the areas where a sales app can help are:
Forecasting (generating leads)
Qualification (making sure it's a good fit)
Customer Relationship Management (CRM) - keeping track of prospect / customer information
Sales training
In person selling (demonstrating features to a customer)
Information sharing (sending relevant information to a prospect)
When properly deployed, sales apps whether mobile or web, can show real improvement in any or all of the above areas listed. For example, sales training can be delivered via handheld mobile device instantly to any sized sales network, making it easy for everyone to be current on the latest products and specifications.
Apps for Sales Management, or just Selling?
Following a deployment to team members, managers will quick notice the benefits of mobile sales apps, because they can help in many areas, including:
lead tracking and generating new leads
providing a digital business card
closing more deals
Sales managers can also use admin tools to see who is using the app the most and what content they are accessing. While there are legitimate concerns about privacy and data, as long as the "tracking app" aspect of this is transparent and constructive, for the betterment of the team, it's a positive development.
A Modern Mobile Sales App Saves Time and Money
Sales apps and software continue to evolve based upon the needs of the market.
Today, due to market fragmentation, any mobile app should be cross-platform. Both Android and iOS platforms continue to have strength and durability in the marketplace. If you want to empower and engage your sales team, you need to provide tools they can use regardless of device.
Your sales representatives can use our app to share assets with prospective customers and track through our Salesforce integration.
Sales content must be available anywhere and easy to access in order to support the sales process. Content must be available on every sales rep's mobile device. Whether it is sales playbooks, product catalogs, or guided training, making it on demand is important.
Web vs. Mobile Sales Apps
The main difference between web and mobile apps is how they are accessed. Web apps are accessed via browser on a desktop computer or laptop - and possibly on a larger format tablet. Mobile apps are accessed via mobile devices, such as smartphones and tablets via an app store for downloading the app, generally the Google Play Store (Android) or the App Store (iOS).
Today, due to market fragmentation, any mobile app should be cross-platform (iOS Android) - and ideally available via browser, too. Both Android and iOS platforms continue to have strength and durability in the marketplace, with a great balance in the US. If you want to empower and engage your sales team, you need to provide tools they can use regardless of device.
Sales content must be available anywhere and easy to access in order to support the sales process. Content must be available on every sales rep's mobile device. Whether it is sales playbooks, product catalogs, or guided training, making it on demand is important.
Make Every Sales Rep Effective in Real Time
Such a platform operates with a cloud-based storage system for maximum availability and access. Offline mode becomes a critical requirement for teams that operate from remote locations.
Once users have downloaded the app, they can access saved content even without access to a wifi network. The functionality operates quickly and seamlessly to deliver a powerful and useful experience even without an Internet connection.
One way to increase mindshare among dealers and distributors is through a branded mobile app. It is possible to customize the app in the Google Play and App Store with a branded icon and custom colors. A custom app will offer a strong brand touchpoint across your extended sales network.
Best Retail Mobile Apps 2021
How often do you use mobile apps in a retail environment?
Look around any store and many shoppers are already on their phones. A lot of them are doing a number of tasks including comparing products and looking to buy with the convenience of mobile retail apps.
Catalogs, mailers, magazines and any other hard copy / print material are becoming less and less used over time as digital alternatives take their place. Let's look at a few particularly successful mobile retail apps and see what sets them apart.
Retail Mobile App Examples
Home Depot
We all need to fix things up around the house but being in a huge warehouse (big box store) can be intimidating and overwhelming. The Home Depot Mobile App is highly useful because it can help you navigate the whole process from selecting to buying a product.
Home Depot's app lets you compare items and explore reviews on saws, for example. Choose one, then seamlessly check inventory.
magicplan
The magic plan mobile app is can be a huge help to any small business owner looking to open a new location.
Let's say you find a property you are interested in to build out for your retail store. In fact, using the mobile app you add virtual furniture, racks, and shelving all around your floor plan to ensure that everything fits. Use the app's estimator function to calculate the cost of getting your store exactly the way you envision it.
It is, a "magic plan."
Xero
Advancing technology will continue to make business management increasingly do-it-yourself (DIY).
If the task of managing business finances is part of the job, Xero can let you do everything in a single, easy to use package.
A widely considered alternative to QuickBooks, Xero integrates everything with a mobile-first philosophy. So instead of doing everything in a disconnected, haphazard fashion, you can track expenses, pay bills, order inventory, just about everything right on your mobile device.
For a busy small business owner, this kind of all in one, mobile first approach can save time and money over the old way of doing business.
Humanity
If you've ever owned or managed one or more retail locations, you know how much time and effort goes into scheduling.
Managing time-off requests, making sure employees come and go at the right time, and assuring shift trades go smoothly can gobble up hours of your workweek.
The Humanity mobile app lets you control all of these variables from your mobile device. It is loaded with features that let you hold employees accountable, knowing your stores are well-manned.
Online Retailers are using Mobile Apps
Retail has come a long way. In just the last decade, we've gone from clunky cash registers and being buried under a never-ending pile of paperwork to using a single gadget to sell anywhere.
As technology evolves for retailers it has become possible for small business owners to manage their businesses with their smartphones and tablets.
As an example, one of the most powerful is the Shopify POS which enables a wide variety of merchants, at events, stores, dealerships to connect with and virtually run their entire operation.
Mobile Apps for Business
Mobile apps can be an excellent way for businesses to add customers and deepen customer relationships.
Today the world is mobile and digital. Nearly everyone has a mobile device at all times and we can see as we move through the world how much time everyone spends on their phones - whether it be checking TikTok and Facebook, scanning and responding to email, reading a book, listening to a podcast, or watching movies or live TV.
This attention to mobile devices creates an unbelievable business opportunity for companies who embrace it.
Leading companies are increasingly investing huge resources to engage customers via mobile touch points.
Businesses of any size should think about their customer communication mix and make mobile communications a priority, regardless of budget. Starting small is better than not starting at all.
Advantages of Mobile Apps for Your Business
Businesses are always seeking to add customers but one of the biggest barriers to this growth is reach - the ability to have real and useful conversations with your customers.
A mobile app for your business can help you to accelerate growth with new customers while cultivating greater engagement from your existing customers.
Customer engagement is cumulative across brand touch points - the more the better. Of course businesses think of brand touch points like the web site, social media, retail transactions, and other marketing. However, one of the most powerful tools available today is sitting in the pockets of their customers - mobile.
A mobile app can offer businesses a wide range of powerful benefits. Here are the top four.
Mobile Sales App Benefits For Your Business
There are a number of benefits to using this sort of modern mobile apps for sales reps, including:
Brand consistency across touch points
Improved conversations with customers
Reduced time for the marketing team to manage, organize, and publish digital assets
A mobile sales app can help your sales team get organized, enabling them to concentrate more on selling rather than preparation. Administrative personnel can use the mobile sales rep app to access sales tools such as PowerPoint slides, templates, and lead tracking. These reps can share the content with customers and prospects with a customer profile within the mobile sales tool.
Sales reps gain much more selling time with mobile apps, increasing the productivity of your channel sales force. This is true even if territory management is a challenge.
Here are some of the other major benefits of using a a mobile app for sales.
1. Elevate Customer Loyalty
One of the greatest benefits of a mobile app is it increases availability of information. Interactive content also creates a much better experience for customers who use the app.
One major benefit of using an app is that your customers can quickly and in just a few clicks search for and find a product that is an excellent fit for them.
To take it to an even higher level, add a rewards program to create an incentive for engagement.
2. Make Your Content Highly Accessible
Mobile apps are easy for users to access. Customers feel safe and secure to purchase and interact with your brand in a mobile environment.
If customers are satisfied using your app they will also suggest it to others. This will give you the mileage to remain a step ahead of your close competitors.
It functions as a direct pipeline to your clients and customers.
3. Create a Trusted Connection to Your Brand
A mobile app can create one of the most important connections your customers have to your brand.
Consistency builds trust - when you are available to answer customers questions, when your service is good and solves customer problems, you build trusted relationships with your customers.
People can't like you until they know you.
People can't trust you until they like you.
People won't buy from you until they trust you.
Apps give companies a great platform to build trust, and a more human level of connection, to their customers.
4. Track Clients and Prospects
Whenever someone downloads your app to ask a question or make a purchase, you now have an additional channel to gather information about that user. You should always ask permission first, however, before automatically collecting the data.
You can use this information for targeting customers through ads and making recommendations based on previous purchases.
The data may prove highly valuable to a business who wants to know what content is optimal for their target audience. As well, more data can help companies meet customer expectations and create a more relevant buying experience.
Mobile Apps - Just for Big Companies?
Previously, mobile apps were more common for huge companies like Nike, BMW, and Home Depot.
However, with advances in technology, it is possible to build mobile apps much more economically than ever before.
The success of small companies, even self-funded startups, in creating mobile apps that reach a large and growing audience tells us all we need to know about how the playing field has changed.
It's abundantly clear that you don't have to be a Fortune1000 company to see the value of, and to invest in, a mobile app for your business. What you do need is a clear path forward to achieve a set of the right goals.
What are the Most Important Features for Your Mobile Sales App?
Features and functions are always important when you build a mobile app. This is just as true in B2C as it is in B2B, and no successful app was ever created that didn't meet the needs of its users in the correct way.
But as much as the feature set is important, there is also the user experience (UX).
For example, does the app load quickly or sit there spinning forever?
Is the screen a jumble of information with no clear place to start?
Is it easy to find the information you're looking for?
With these questions in mind (always think like your user), here are a few of the important considerations as you work to build an app:
Simplicity
Quick Loading Time
Social Media Integration
In-App Payments
User Feedback
Simple
Apps should always be as simple as possible (and no simpler!). It makes it a lot easier to onboard users and you'll always see higher adoption if you lower the complexity.
The last thing you ever want to do is make an app too complicated. Once a user decides your app is too much trouble it's almost impossible to get that user back later.
Loading Time? Fast.
Apps that take too long to load will also challenge the willingness of users to stick around.
Generally speaking, an app should always load within two seconds. Any longer and you risk frustrating users.
Integrated with Social Media
Social networks are a key part of communication networks today.
Businesses have a key opportunity to leverage social media by making it possible for users to share content, user-generated or otherwise.
Have a Way to Get Feedback
It is absolutely crucial to get regular feedback from users, for three reasons.
1) Direct feedback, when listened to and acted upon, can create a real sense of engagement and trust among users - users who feel "heard" and respected tend to be more loyal and consistent in their usage of the app.
2) You will often find out things you never would have expected - these surprises can offer some of the deepest insights into how users engage the app and what they find valuable. Only by understanding your users can you hope to improve value to them.
3) It provides measurement over time - as Peter Drucker is often quoted "You can't manage what you don't measure." Continuous improvement is about setting a target (where you want to be in the future), creating a benchmark (where you are today) and setting a plan to go from A to B. Only with adequate measurement is this improvement possible.
How to Approach Mobile App Development
Nail down your budget
Companies that don't set a budget for the app development effort typically spend much more than they want to in the end. Even if an average app costs between $60,000–$150,000 (though apps exceeding $1M are not that rare), the price varies significantly depending on a variety of factors:
Complexity (number of functions and features)
Turnaround (how long they developer has to build the app)
Developer experience (especially with this type of app)
Design (look, feel, UI elements)
Operating system (choosing iOS, Android, or both)
Once you've established your budget, it becomes possible to prioritize features and manage the overall cost.
Should you hire an app designer / developer?
When it comes to designing and build the app, companies have a few choices:
OUTSIDE APP DEVELOPMENT FIRM
Your classic "dev firm" or "agency" with roles spanning account and project management, design, app development with front-end and back-end specialists, and QA, with many sub-classifications in between.
+PROS: a team of professionals with a wide variety of skills; least risk of failure
-CONS: you get what you pay for but usually the most expensive option by a considerable margin, with hourly rates in the hundreds of dollars per hour depending on their client roster and demand for their services
TEAM OF FREELANCERS
A team of individual contractors with many of the same skill sets of a firm, but without some of the systems, process, skill depth/variety or overhead (those fancy agency offices have to be paid for by someone!)
+PROS: can be a good value for the skill sets acquired; best for one-off engagements
-CONS: there is a moderate risk of failure, which goes up on longer projects; additional risk if this team hasn't worked together before
IN-HOUSE APP DEV TEAM
Some companies with long-term app development ambitions choose to build an entire team from the ground up, in house. For companies with leaders who are experienced in growing software development teams, this can sometimes be the best option long-term. But it takes a while (depending on budget, it can take years to establish the staff and process to make this work), but in the end it can be the most affordable by far
+PROS: lowest cost for high-demand software development environments; most control over outcomes (you employ the team and directly manage them)
-CONS: takes a while to hire, staff, and optimize; requires full-time management; overhead demands when work is light
Don't Forget App Updates and Maintenance
One final consideration is app support and maintenance. Mobile apps require ongoing updates based upon changes in mobile operating systems, so a support contract to handle the maintenance should always be contemplated as part of the overall program cost.
Are you going to build a native iOS app, native Android app, or hybrid?
The operating system (OS) of the app you decide to build depends on the budget you've created and the audience you are going to target.
While the Android OS is popular globally, iOS continues to be more popular in natively English speaking markets like the United States, Canada, Great Britain and Australia.
The third option is "hybrid" apps which leverage other technologies to make the app operable in both iOS and Android, but sometimes constraining / limiting functionality.
Consider the marketing strategy for the app
Whether you choose to monetize the app or merely roll out an app as a way to connect with your customers via sales (e.g., via an outside sales network of dealers and distributors), companies will find it essential to commit mindshare and budget to promote thee platform to attract and engage users.
Following are some of the ways to market your app:
Send out materials promoting or incentivizing download and usage
Provide training in-person (ideally at an annual event) or remotely
Reinforce usage of the app frequently
Create a video and a press kit
Develop a way for users to share their own successes - a "bottom up" approach
Promote success stories via company channels: email newsletter, blog, Slack
Like any marketing campaign, track of conversion and solicit feedback from your users.
It's smart to invest in a Mobile App for Sales NOW
Small businesses that wish to compete in any modern market must adapt to new changes and new technologies - and uphold a strong mobile presence, especially among their sales teams.
To boost your brand and make your services more accessible to end users, while simultaneously building mindshare and an enduring brand, building a mobile app is one of the best options you have.
Businesses of all kinds, and particularly in B2B, all over the world are embracing the trend of creating mobile sales apps for their inside and outside sales teams. Take the leap to make sure your company is not left behind.
To learn more about a modern mobile selling platform can help your business, please reach out or schedule a demo.